The kit we use in the woods is a very personal matter and no item more so than the footwear we choose. And it's not just in the woods – work shoes (when I was a chef) and, of course, running shoes when I was pounding pavements and running marathons.
Over the years I have tried a lot of clothing and footwear, everything from army surplus boots, to traditional walking boots and everything in-between. Like most people I have researched my purchases, looked at what other people use and looked at what the outdoor "celebs" and guru's use. I have used boots from all sorts of manufacturers: Lowa, Miendhl, Lundhags, Merrel, Nike, Zamberlan, etc,etc. Hunting boots, walking boots, approach shoes, cross trainers – you name them, I have probably tried them – even Crocs!!!
When I was working for Bison Bushcraft, Roger and I designed a boot especially for bushcraft. We were looking for something light that allowed you to feel the world around you, the idea was for an "enclosed flip-flop", a simple shoe with no raised heel (this simplistic idea seems to have taken off with the advent of "bare-foot"& "minimalist" shoes). While very good, they were not the "ideal" for year round use and had a slight flaw in the design.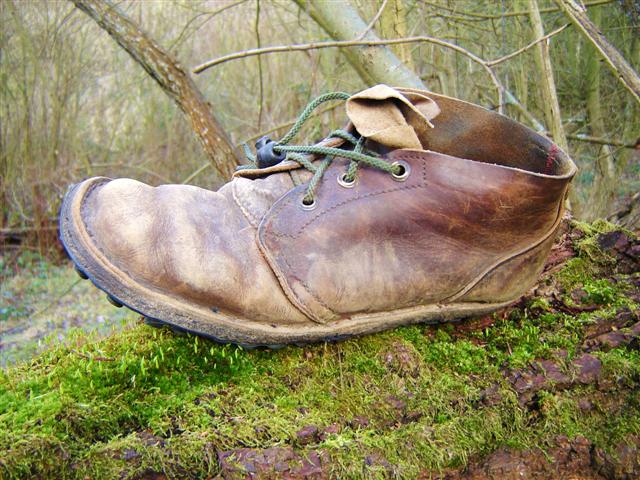 One thing that become apparent is that no one pair of boots can be suitable for all conditions in our world of bushcraft.
So what is the answer?
I looked at the clothing I use in the woods (more specifically – what covers my legs!) and there was the answer!
Most of the year, I wear an old pair of British Army Lightweights (cheap, robust, fast drying, not too many pockets). If the weather is hot and I decide to get my legs out – a cut-off pair of German Army Moleskins (baggy, made of cotton & super comfy). When the mercury drops and the weather gets cold & damp, I want something that offers more protection. I have a pair of Tuff-Stuff "Bushman" trousers that are made of polycotton canvas, have cordura pockets for knee pads and have a few sensible pockets.
So all I needed was three pairs of boots!
The boot that I have chosen for use most of the year (and I am still testing eight months on!) is the Vivobarefoot Mens Off Road Hi M Leather Trekking and Hiking Boots

, a water-proof lined leather minimalist boot, that is amazingly lightweight, grips superbly and lets you feel the world under your feet. I have used them in the woods, on the Cornish coast path and as a general purpose boot while teaching. These boots need care, don't use them for everything! Like plumbing, going to the pub, going to Tesco's, etc,etc – because they are not made for that sort of use – the clue is in the name "off-road", use them for that purpose and the sole will last!
In the heat of the summer woods – you want something very light, very soft (so you can feel the forest floor), grips well and dries fast. Again I looked to Vivo-Barefoot and I use their "Vivobarefoot Mens Neo M Trail Running Shoes
" shoe. This was the first shoe I got from this company and I have been using them for over a year and they are superb. Incredibly light, very "grippy" and the sole allows you to feel everything that lies beneath your feet. They also make excellent "camp-shoes" to change into at the end of a hard days hike, weighing nothing and packing down very small.
My one word of caution with "bare-foot" or "minimalist" footwear is, that the properties that allows you to feel everything – does just that! If the ground is cold, so will your feet be!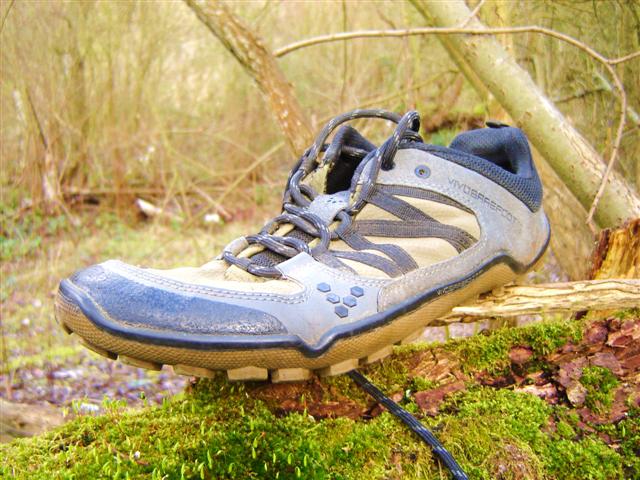 So what to wear when it's wet and the ground is cold?
For the answer I looked to countries where the winter months mean snow, cold & wet for the duration. In countries where it remains cold & dry – Muk-luks are favoured, however in places where wet is also added into the equation, the "Pac" type boots seem to be favoured. These boots have a rubber foot section (like a wellie) and then have a leather top that, laces up. The inner is usually made of felted wool (or similar), keeping your feet warm & dry.
I purchased a pair of Seeland Pac Boots (£42) at the beginning of the winter. Last winter I used a Gore-Tex & Thinsulate lined "cold/wet" boot and in prolonged use had cold feet most of the time. This winter with my "old-school" Pac Boots, my feet have stayed warm and dry. The dry part was severely tested while teaching scout-leaders in Gloucester in November when we had 14 hours of torrential rain and wide-spread local flooding.
While feeling "big & clumpy" compared to my other "minimalist" footwear, they have become a firm winter favourite.
So there you have it – my thoughts on footwear for use in our woods, the whole year round. And as far as cost goes – the three set of footwear, suitable for use the whole year round – was £180….which for a "year-round" set of footwear – I think is quiet reasonable.
Til, next time.
Neil