When teaching I use a couple of different knives, both fixed blades (a mora & homemade stick tang) carried in a neck sheath. They get used for carving, campcraft & food preparation and cover pretty much all of my needs in a bushcraft environment.
That is fine when in camp, but what about the rest of the time?
There are always times when you need a something to cut with, opening packages, cutting string, foraging fruits, leaves or fungi and sometimes just to whittle something to pass the time. These are to time when you need an "everyday carry" (or EDC for short). A small folding blade that you have with you at all times.
For more years than I care to remember, I have always carried a small belt pouch containing a Leatherman Wave, a Ferro rod & small torch. This would go everywhere with me and would provide me with a range of tools for use in all manner of scenarios.
Then someone questioned whether or not a Leatherman is legal to carry? The blades are locking (and the law does not see that as a "legal-carry"). So I started looking around for a more "traditional" pocket knife that would be legal to have in my pocket virtually everywhere. To meet these requirements my chosen knife would need to have a non-locking blade that is less than three inches in length.
Over the last 18 months I have been trying out several knives that fit these requirements. Each have there own merits and drawbacks but all are excellent EDC's.
First up – the ROUGH RIDER WHITTLER.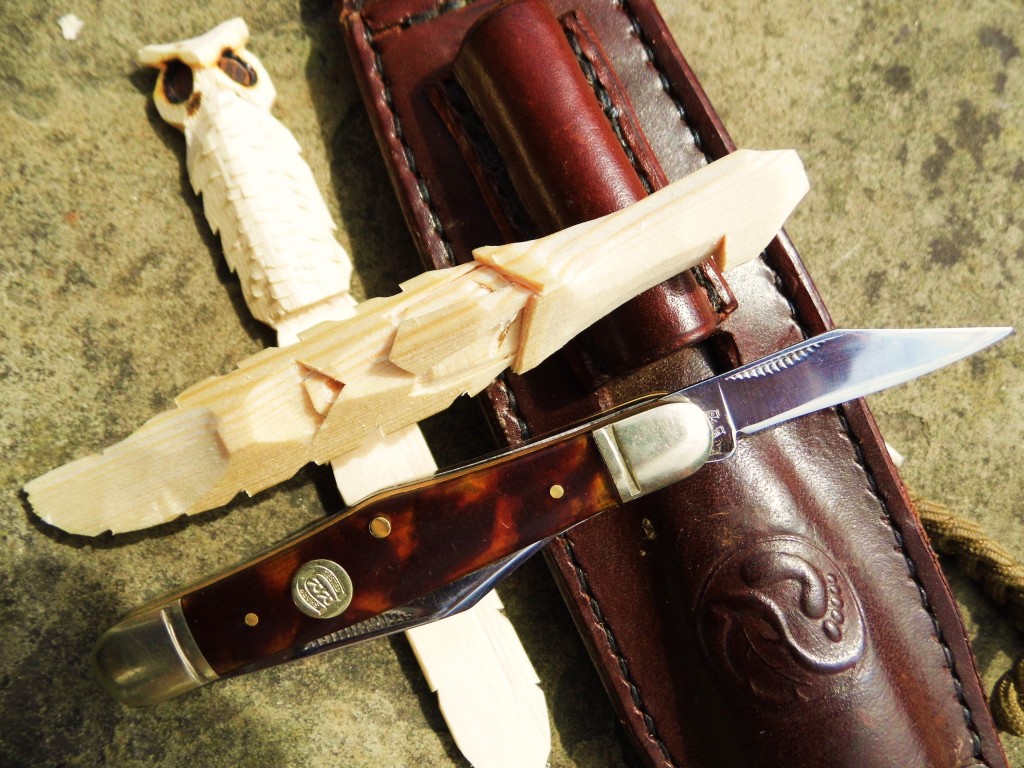 A very traditional looking pocket knife that is made in China from 440 Stainless Steel and is a bargain at less than £10! It has three blades (two small whittling type blades & a larger main blade), brass type bolsters with plastic tortoiseshell inlays. The factory bevels & blade profiles do leave a lot to be desired and take quite a lot of work to sort out, but it is worth the effort. What you end up with is a superb little "gentleman's pocket knife", that is great for peeling fruit, cutting string and, of course, whittling! The size does limit its usefulness at times and the narrow handle can be a little uncomfortable – but for the money it is brilliant.
Next on the list – the BOKER XS.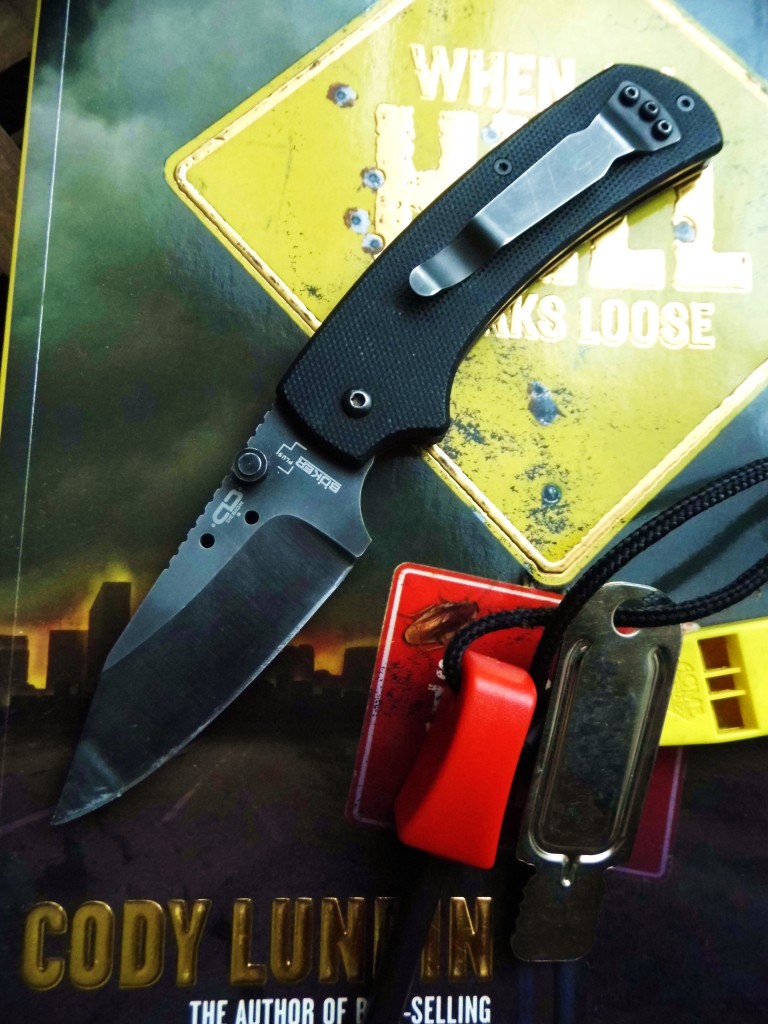 A very different looking knife to the Rough-Rider. All black with a pocket clip, G10 type handle and a "thumb-stud", this looks far more "tactical" and nothing like a gentleman's pocket knife. The blade is a little over 3inches, but the cutting edge is less (and that is what the law is interested in). The blade is fairly broad and has a "hollow-grind" , the thumb stud allows it to be opened with one hand, which is excellent in some circumstances. The blade clicks into place with a good solid feel. It is a very utilitarian knife, not particularly well suited to any one task. It can be used for food prep and even to make reasonable feather sticks. The handle is not very comfortable in prolonged use however.
It also looks very "tactical" which can be a disadvantage at times (especially with the great british public being so "phobic" when it comes to knives).
Finally is the BOAR EDC from the Bushcraft Store.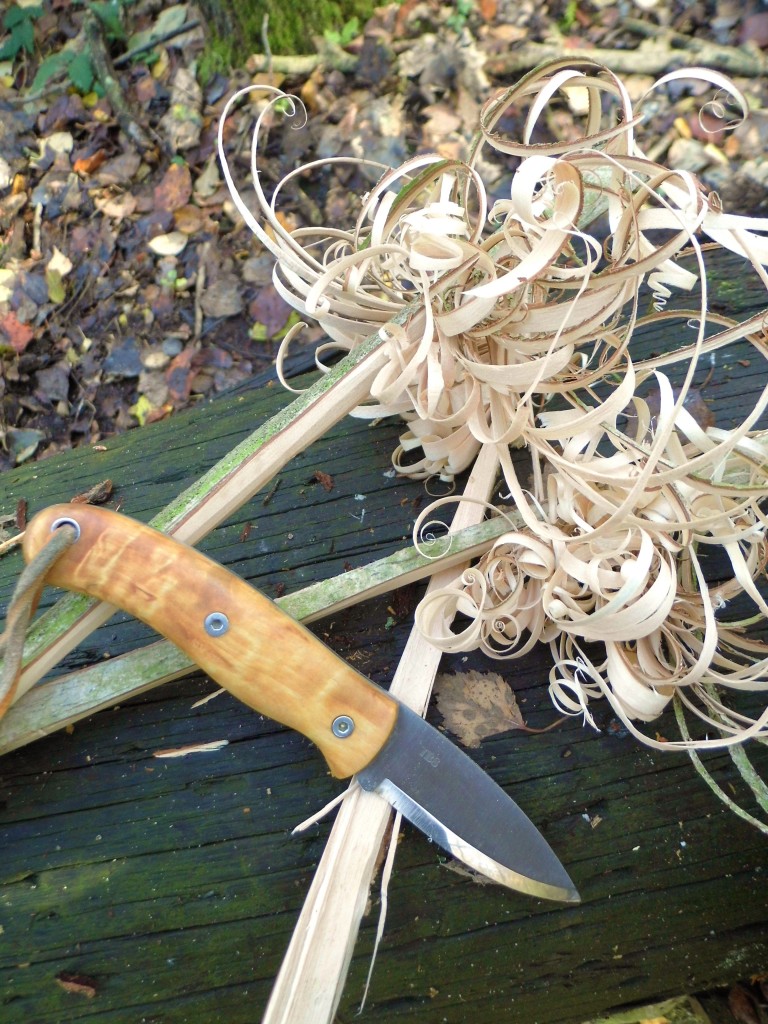 This knife comes with a choice of handle materials, either black Micarta or Curly Birch. The non-locking blade is made  from 12C27 stainless steel and has a "scandi-grind" and is a spear-point design. Essentially this is a folding bushcraft knife that has been well designed. It doesn't have a nail groove on the blade which is a little disappointing and makes it slightly tricky to open if it is wet, but that is the only real fault I can find with it. The handle is comfortable to use and a good size, being oval shaped it is fairly secure to hold too. The blade geometry works well, not too broad or too narrow its suited to most tasks. The steel type is excellent and it holds a very good, while also resisting staining & corrosion. The scandi-grind makes it easy to sharpen and is very well suited to working with wood. The slip-joint feels good & solid when you open the knife out too.
I have used this little knife a lot, its made pot hangers & feather sticks, skinned game, carved various trinkets, etc, etc, and it never disappoints. Of the three knives this is the one I reach for most often. It also looks fairly non-threatening, so I'm happy to carry it in most situations.
I hope anyone looking to get a new Every Day Carry will find the above in some way useful.
Atb
Neil